This free weight loss hypnosis MP3 is best used along with the ego boost session. Alternate between the weight loss session and the ego boost session, listening to one every day (but don't be worried if you miss the odd day), for three weeks. After this three week period you need only use once a week, although it is perfectly fine to listen to as often as you want.
If you find this audio useful, please show your appreciation by visiting our store for a more specific session to enhance the benefits you will receive.
To download this free relaxation hypnosis download right click the link below and "save as…" to your computer. To stream, left click…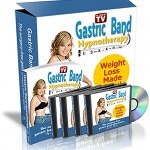 P.S. This is our old, low quality weight loss Hypnosis MP3. You can find our new and improved one here.
Want to lose weight WITHOUT feeling hungry? Check out Gastric Band Hypnotherapy. It convinces your subconscious mind that you've had a gastric band fitted. This causes you to eat less as you feel full much sooner than normal…
Click here for more about Gastric Band Hypnotherapy