Did you know that every one of you reading this can make real money online selling hypnosis downloads?
This is because of a relatively new industry called "affiliate marketing".
It can be a lucrative full time career working from home, or a nice sub to your income.
What is affiliate marketing?
Affiliate marketing is when you sell a product for someone else and receive a percentage commission. Amazon is the most famous affiliate vendor. If I direct someone to Amazon and they buy something, I get a small percentage commission on the sale.
How does it work?
When you join an affiliate programme you get your own unique affiliate link. If you put this in places on the internet (which I will tell you more about in a minute), you can earn cash. When someone clicks on your affiliate link and buys a product, tracking software automatically awards you a percentage commission. You then either receive a cheque or have the cash deposited in your Paypal or bank account.
The benefits of affiliate marketing
The beauty of affiliate marketing is that you don't need to pay any cash up front. You don't need to buy any stock, rent storage space, or sort any physical orders out. You simply direct people to a product and the vendor sorts out all the rest.
Everything is done for you. Someone clicks your link and buys, and your account is automatically debited with your commission. It's amazingly simple but effective.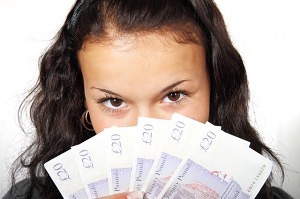 Where to place your affiliate links
If you own a website or blog, then this is an obvious place to add your affiliate links. You can write product reviews and link to a product with a text link. You may instead wish to place an advertising banner on your side bar, which when clicked leads to a product you are affiliated to.
If you don't have a website or a blog, then that is fine – you can still sell online. There are plenty of opportunities to get your affiliate link out there for people to click and buy from. You can place your affiliate links on Facebook, Twitter, Craig's List etc. There are lots of opportunities to make money online with affiliate marketing (follow this link for more ideas where to sell affiliate products without a website.)
HypnoBusters Affiliate Program
The HypnoBusters affiliate program is one of the most generous on the internet. You get paid a massive 50% commission for every sale you generate. There are so many different products to choose from that you have a really good chance of making a sale. The great thing is that you get paid a commission on sales, no matter what they buy. You could be recommending one product and they decide to buy another. This doesn't matter as you still get credited with the sale.
It's a win-win situation!
If you enjoy the hypnosis audio sessions on this site, then you know how beneficial they can be. Our sister site, HypnoBusters, contains even higher quality audio sessions than on here. By directing people to them you are doing them a favour. They might never have discovered these powerful therapeutic audio sessions without your help. For your reward you get a cash percentage of the sale. They still pay the normal price.
How much can I expect to earn?
This really does depend on how much work you put into it. As with most things in life, the more you put in to it, the more you get out of it. Many of our affiliates earn around $100-$500 dollars per month. They are happy with this as it is a great sub to their income. Some have told me that they save it up all year and it pays for a family holiday. For some it has helped them break free from debt.
Then there are others who have managed to earn a more than adequate full time wage and have quit their jobs to work from home. It all depends on how much time you put into it, and how focussed you are in your strategy. One of my affiliates recently let me know that the HypnoBusters affiliate program has enabled her to quit her job and spend more time looking after her sister.
The beauty of the HypnoBusters affiliate program is that there are no caps to your earnings. The more you sell, the more you earn. We also provide some great materials for you to use to help you sell our products. For instance we have many YouTube videos that shows how good our products are. You can embed these on a website or blog or share them on social networks. This can really help whet peoples appetites to buy. These materials are available in the link bellow.
For more information, please check out our HypnoBusters affiliate page.