Want to learn how to get younger skin? Here's some great tips…
Healthy younger skin can make us feel good about ourselves. This can greatly help your self-esteem, which may in turn help a lot of other health complaints such as weight loss and stress.
Regular hypnosis can help smooth the complexion as the muscles in the face relax. If you watch someone going into trance for any type of hypnotherapy, you will notice their faces almost immediately smooth as their muscles relax.
(Smooth the lines in your face with my powerful hypnotic botox)

Eating a healthy diet of lots of fruit and vegetables will undoubtedly help. Giving up smoking will too.
Reducing your sun exposure will also make a significant difference to the wrinkles in your skin. Don't avoid the sun altogether as it is a good source of vitamin D. A little sun seems to help the skin look healthy. Wearing good quality sunglasses can help when in the sun. Squinting due to bright light creates lines around the eyes over time.
Another way of helping prevent wrinkles is to lie on your back when in bed. Pressing your face into the pillow for hours every night increases the number of lines in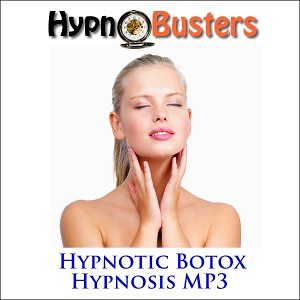 your face. It may take a little time to get use to it, but it is worth it. If you are really struggling then try buying smooth silky pillows instead.
There are some anti-wrinkle creams available. However they can be expensive. Here is an anti wrinkle formulae that is relatively inexpensive…
Put about 10 fennel seeds in a blender along with 2 or 3 horse chestnut seeds and an avocado. Blend until it forms a smooth cream. Apply twice a day to strengthen the collagen in your skin. Be careful not to ingest the horse chestnut as it is poisonous.
If you want younger smoother skin, check out my powerful hypnotic botox MP3. It guides your subconscious mind to relax the muscles in your face, creating the same effect as a botox procedure…